There are three programs in the Faculty of Law and Letters, and students choose the program they want to major in at the end of their first year. This allows them to find the area that truly interests them. Grades are considered for program assignments, but there is a comfortable margin in the available space in each program to give more students the chance to study in their preferred area. Students can take courses in different programs even after selecting a program, making it possible to study flexibly in pursuit of individual goals. We welcome students who aim to identify societal issues and work to solve them, those who want to improve their language skills and work globally, those who want to pursue a broad education and work with a wide range of people, and students who want to do all of the above. Please come study with us!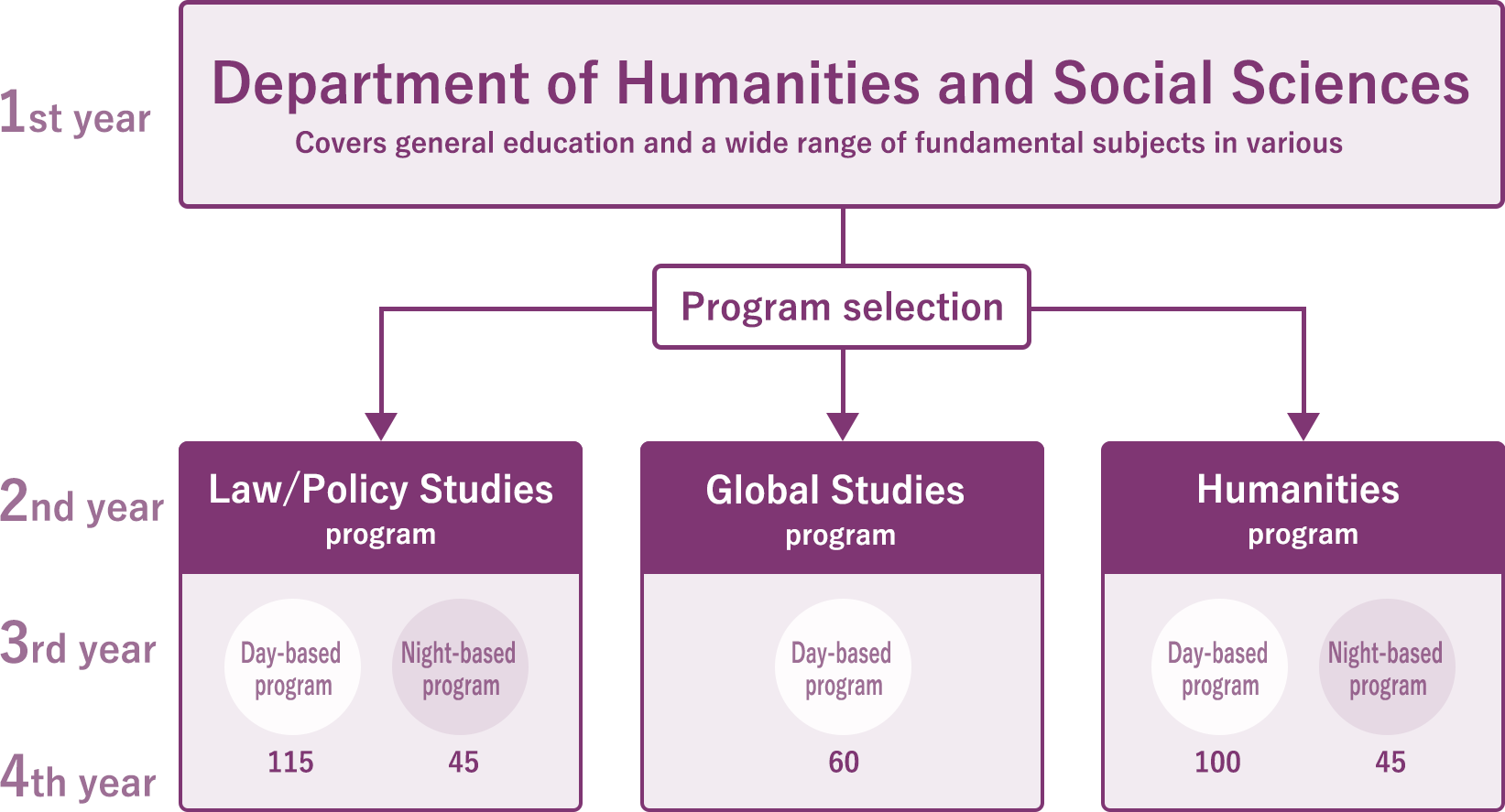 Night-based programs for those working during the day
Night-based programs offer classes primarily at night on weekdays and on Saturday afternoons. A wide variety of students choose these programs, including people in the workforce who want to study at night, people who want to study to prepare themselves to pursue a new goal now that their children have reached a certain age, people who want to study again after retirement, and young students who are looking for the most economical way to study. The greatest draw of the night-based programs is the opportunity to meet students from a variety of generations and study together, encourage each other, and drive each other to excel.

Classes for the night-based programs are held from 6:00 p.m. to 9:10 p.m. on weekdays and on Saturday afternoons. Students may also take classes from the day-based programs, and credits from those classes can count toward graduation as long as they are within 30 units. At the end of their first year, night-based students choose either the Law/Policy Studies program or the Humanities Program. In the Law/Policy Studies program, students can study the main social science areas evenly. In the Humanities program, students have access to the same content as the day-based program.